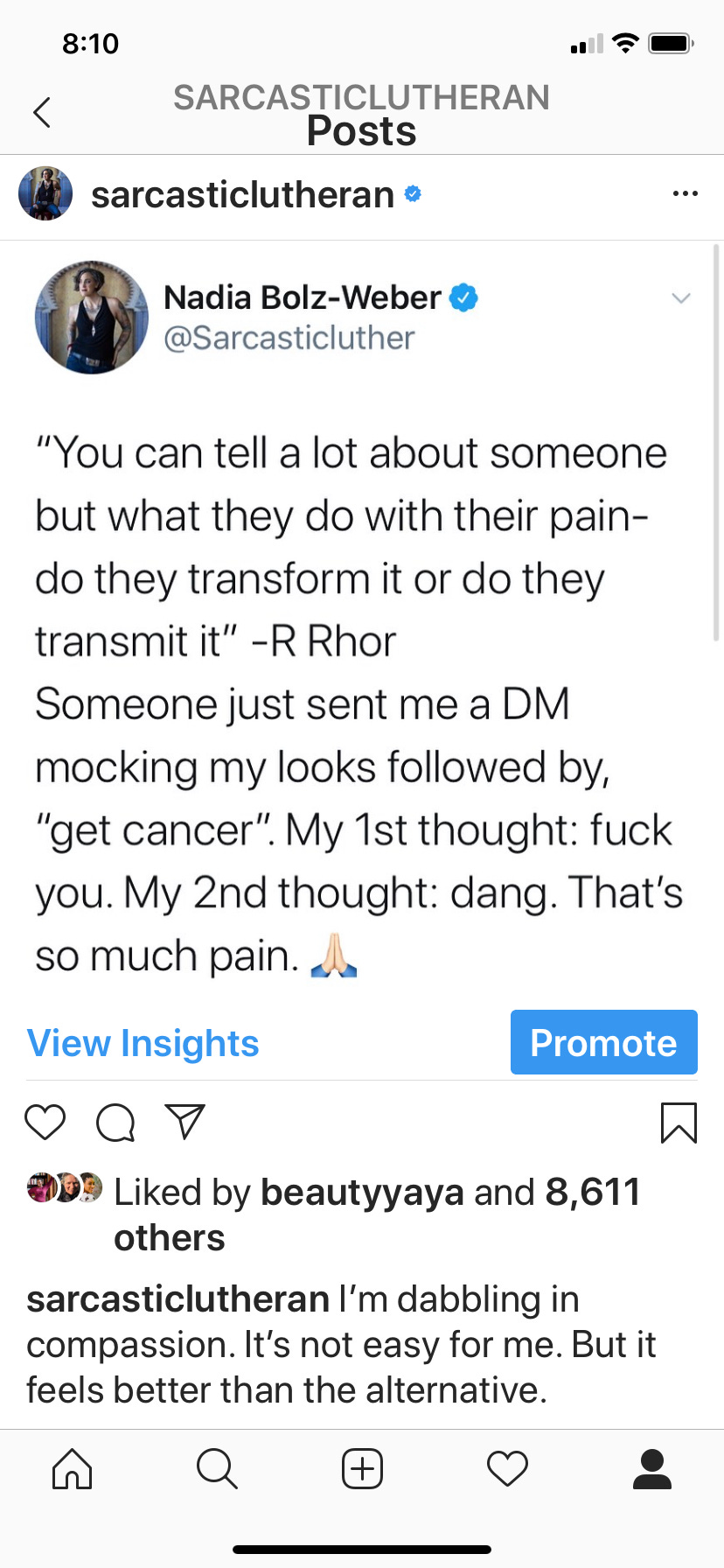 Compassion;
It's Not Easy for Me.
(But It Feels Better Than the Alternative).
If you've seen me speak in the last year, you will likely have heard me talk about compassion, but not compassion-as-a-virtue. I'm always suspicious of virtue peddling – messages about how to make yourself into a better person - because that kind of project leads more often to despair (because I can't really pull it off) or faking it (so it at least seems like I'm pulling it off) - neither of which are much help to me. No. I'm interested in the EFFECT of compassion. Meaning, I am interested in simply paying attention to how it feels in my body when I am in a place of compassion towards someone – and how it feels when I am lacking compassion. 
But having compassion for others who I feel are in the wrong, or who have hurt me, or who are assholes is not my go-to move. As I like to say, my first response to almost everything is "fuck you". I almost never stay there, but if I'm honest I have to admit that I almost always start there. It is only by the grace of God that I ever move from my first reaction to something softer, but the older I get the quicker that grace seems to come. 
            The thing I must always keep in mind whenever I attempt to feel compassion toward someone is that I'm doing it for me, not for them.  I know that's selfish.  But my heart can't take any more fuck you, any more contempt for assholes, any more self-righteousness. Internet trolls and the like may VERY WELL deserve my judgement and anger, but empathy is not exoneration. Their words are seldom justified and I may indeed be justified in lashing out (in the court of Twitter opinion) - which I still do on occasion – I'm just saying that it does nothing for me in the end. 
So what do I do?
Option 1:
Transmit my pain, as Richard Rohr calls it. Take my hurt and pass it like a basketball  either back to the person who hurt me, or to someone more convenient – like that guy who is driving too slow in the left lane, or maybe my partner.
Option 2:
Transform my pain, as RR calls it. Perhaps I remember that no one who feels well-loved, who is a psychologically integrated person, and who has a happy life would ever choose to send someone a direct message telling them they look like a freak and should "get cancer". Someone has hurt them and I know what that feels like. 
I'm never going to get this right. But holy shit, option one feels like poison and option two feels like freedom.
I need to hear about a source of compassion that isn't me.
Ok, here we go….5 verses from Luke chapter 7
Jesus went to a town called Nain, and his disciples and a large crowd went with him.  As he approached the town, a man who had died was being carried out. He was his mother's only son, and she was a widow; and with her was a large crowd from the town.  When the Lord saw her, he had compassion for her. He came forward and touched the bier, and the bearers stood still. And he said, "Young man, I say to you, rise!"  The dead man sat up and began to speak, and Jesus gave him to his mother.
Jesus had compassion for a widow, a woman who had already buried her husband and now was burying her only son.  And so he reached out and touched them. He said Young man rise up. And the man rose and began to speak and Jesus gave him to his mother.
I know they are crazy but I love stories of resurrection.  I love stories of resurrection because I am someone who is desperate for 2nd chances. I love stories of resurrection because they are messy and weird and sink a hook of hope into me that nothing else can.
And we could use some divine hope, right now could we not? We could use some resurrection up in here. We could use something a little more powerful than our virtues – a little more reliable than our attempts to just try harder.  I've tried trying harder it doesn't make me free, it just makes me tired.
So based on this story, I have written this prayer for us today.
God of compassion,  
As you did in Nain, enter our city gates. Enter into the somber roads down which our hearses drive and the glad streets down which our children run. Enter the parks where the junkies shoot up and the yuppies listen to jazz.  Walk uninvited into starter mansions and public housing and dorms and cheap motel rooms that charge by the hour. Stroll into the cool-air freezer section where the pregnant women escape the heat and the bus stop benches where the weary wait. Enter every law office and adult books store.  Step into the spaces we say we feel your awesomeness and the places where we  claim your forsakenness. Enter our city gates, God of Compassion as you did the city of Nain. And bless.
Bless the things we mistakenly think are already dead.  Bless that which we have already begun to carry out of town to bury. Bless our rocky marriages and our college age kids who smoke too much pot. Bless the person at work who we love to hate. Bless the young adult who wonders if they are too young to really be an alcoholic, and bless the 6o year old woman who's had too much work done. Bless the public school lunch ladies and the guy who stole my kid's bike. Bless the chronically sick. Bless the one who has no one. Bless what we call insignificant and which you call magnificent. Bless it all and love what only you can love: the ugly, and abandoned and unsanitary in the wash of humanity upon which you have nothing but a gleaming compassion when we have none. 
God of Compassion who saw the Widow of Nain, we thank you for seeing us.  Seeing our loneliness and our bravery.  Seeing the times we can't say what we need to.  Seeing the ones who have never felt like they are enough but who you know already are and always have been.  Seeing the moments when we are more than we thought we could be. Seeing what no one else can or will. Thank you for seeing as beautiful what we call ugly and that in your compassion you wipe away all tears. Teach us to see each other.
Reach out and raise us God of compassion. Touch us as you did the wood on which the widow's son lay and speak those same words to us: Young man arise.  Little girl, get up. To we who think we are not worthy to be loved and medicate ourselves with food and booze and shopping, say "rise up". To us who have been hurt by those who say they follow you say "rise up". To those who feel unworthy of forgiveness say "rise up". To the ones who care for the least of these and who feel too burnt out to keep going, say "rise up".  To we who are holding onto resentments like a security blanket say "rise up". To those who hide their failings behind their good works say "rise up".  To the unloved child who has no idea that one day they will change the world say "rise up". 
And when again God of Compassion, you have raised the dead…when again you have made whole that which is broken, when again you have ripped out my heart of stone and replaced it with a heart of flesh, when again you have reached into the graves we dig ourselves and loved us back to life…don't stop there. Help us, Lord. Like the young man of Nain help us to sit up and speak.  Give us words that are not empty affirmation, but give us strong words, as real as the very soil from which you raised us. 
Give us the words lord, but also (especially in my case)  give us the pause before the words. Please.
And then, as you did the son to his mother, give us one to another.  Make us one in this fractured world. Our country is divided, neighbor against neighbor, world-view against world-view and we are so sure we are right and they are wrong. It's a mess down here, Lord, and we've prayed that whole "Thy kingdom come" line a LOT already so we might stop asking nicely.  We need your Kingdom of love and grace and mercy to speed the hell up. And if that's not possible then open our eyes to where your kingdom already is taking root and growing among us, turn our eyes from our despair to any amount of light which is spreading, however small.
And help us to know when we do not have enough compassion for the road ahead, that you do, and that that is enough.
AMEN.
What's going in The Corners
You're invited to join my on-line publication and community, The Corners. Here's an essay about the name.
In the last month we've had a "what corner of the world are you in?"check-in question. (spoiler alert: every corner of the globe!) An ask-me-anthing thread which I answered live for an hour. An essay on my experience preaching in the prison, and another on why I call myself a Lutheran. It's been amazing to read thoughtful responses and witness the compassion the members have for each other's stories.
Tomorrow from noon-1p MST I will be live on a discussion thread about compassion.
Join us!
Or you can gift a subscription to another person here:
All are welcome, so…as always, if money is an issue, just shoot us an email at shamelessmediallc@gmail.com and we will hook you up with a 50% discount or a totally free subscription! We've gifted hundreds of these so far and it's been a joy!
Pop-Culture Post-Script
The Podcast, Conversations With People Who Hate Me – with Dylan Marron, is amazing. He has a similar tag line "Empathy isn't endorsement"
This episode of NPR's Hidden Brain, The Science of Compassion, is beautiful.
Wanna know more about Richard Rohr? Yesterday The New Yorker published an amazing profile written by the badass Pulitzer Prize winning journalist, Eliza Griswold.
You know who is very easy to hate? Members of Westborough Baptist Church (of "God Hates Fags" fame). I highly suggest reading Megan Phelps Roper's memoir about growing up in that church. I actually cried during the chapter where she describes the night she left the family she loves because she just couldn't be a part of their church anymore. It's a compelling and beautifully written book. 
One of the most grace-filled people I have ever met, is Monica Lewinsky. She's worth listening to when it comes to compassion, bullying and how we interact on the internet.