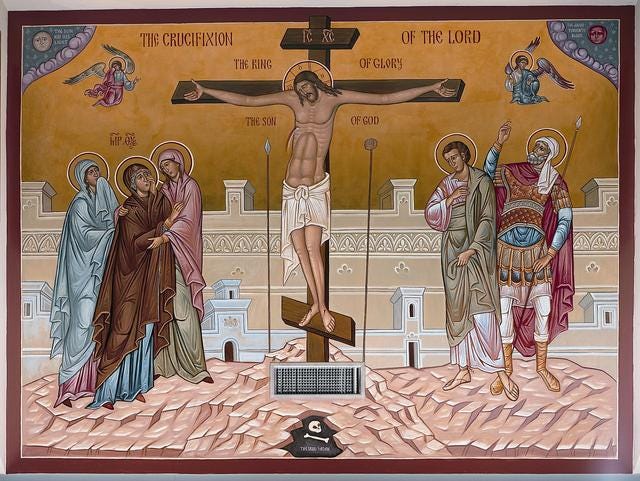 The Dogs of Good Friday 
An excerpt from Accidental Saints; Finding God In All The Wrong People (2105)
Wanna listed to and see me read this? Click here.
I couldn't see the dogs, but I could definitely hear them as they violently strained against the chain-link fence, their barking tearing at my nerves. I steadied myself and quietly pulled a few bundles of purple tulips from my blue Honda while my intern, Alex, carefully unloaded House for All Sinners and Saints' large crucifix. We walked up a dark street with no sidewalks or streetlamps toward the house where, a month earlier, twenty-three-year-old Mayra Perez had shot her own children, ages four, two, and one, before turning the gun on her- self. Only the two-year-old girl survived. For this young mother, there had not been the hope of dawn, of the light that could come to scatter Good Friday's darkness. 
It was 2013 and we were continuing a practice started on our first Good Friday together where, after the liturgy, we gather together at a site where an act of brutal violence had taken place in our city and there we pray and lay down tulips, tulips that had been handed to those entering our Good Friday liturgy a couple of hours earlier and had then been laid at the cross as we sang "Were You There When They Crucified My Lord?" That is to say, we bring the holy things of the church onto the holy streets of the city because on some level, the violence and despair of Good Friday is a constant human reality. 
Other parishioners parked on the dark street and joined Alex and me like a slow, quiet flash mob until we all stood near the ground where blood had been spilled and hope had been absent. Eventually there was a circle of forty-five of us, all unnerved by the darkness and the snarling dogs. I was glad for our numbers. Had there been only a handful I'd have been terrified to be in this place. I guess I was terrified anyway. 
With both hands, Alex held up the large crucifix, and we began. 
Earlier that evening, that same cross had been featured in our Good Friday procession at church, held by the cantor as he chanted. 
And after the cross was laid on the altar in repose, the air didn't move. We didn't move. And then the cantor began to sing Psalm 22, the words of a dying Christ: "My God, my God, why have you forsaken me?" Then, when we sat down, the passion of Jesus Christ from the gospel of John was sung. 
The story of Jesus's trial — the thorns twisted into crowns, the flogging, the cries of "crucify him" and "I am thirsty"—is different when it is sung. Some things just have to be sung to be heard fully, so three different voices sang the roles of the narrator, Jesus, and the crowd. 
Two young women, neither likely to ever be in a church, sat side by side and sang the Solemn Reproaches, a Good Friday rite dating back to the ninth century. 
The congregation sang the Trisagion  -Holy God, holy and mighty, holy and immortal, have mercy upon us"—as a response for each of the reproaches. 
As Kate and Megan sang this ancient chant, it felt as though their voices were reaching through two thousand years of Christian faith and bringing back into the room with them the full force of humanity's folly; we humans don't really know how to respond to the kind of grace and love shown us in Jesus Christ. Each reproach built in force upon the last, as did the congregation's sung response. And somehow the truth of God and humanity, the truth of a gift and the rejection of a gift, was made real in the vibrations of our singing. So that even the most cynical and nonreligious among us for those moments could not keep from weeping for the ways in which we sometimes reject goodness, turn from love, and make choices that no one who loves us would ever make on our behalf. But it wasn't guilt we were feeling. At least not the church-made kind. I know what that feels like, and this was different. 
Because Good Friday is about us entering the difference between God and humanity and just touching it for a moment. Touching the shimmering sadness of humanity's insistence that we can be our own gods, that we can be pure and all-powerful. Some may think that spirituality means attaining a disembodied transcendent state somewhere up in the ether. But that's not where we find God . . . that's just where we try to be like God and that's different. 
The Good Friday experience is one of feeling the pain of an entirely unfiltered reality. It is as if the atmosphere, the protective layer between us and the sun, has for a moment disappeared and we are being burned. I wonder if God is like the sun in that way and is the reason Moses could not look at God, because we need a protective barrier. We need God for light and warmth, but we also need some protection from God—not because God is an angry bastard, as some would have us believe, but because we would cripple under God's truth, unfiltered. Which is why we do the Good Friday liturgy only once a year. None of us could bear it more often than that. 
Yet to never touch the truth of these things is to live only halfway. 
After we sat in our rows facing the altar and sang of the death of Jesus, we began the adoration of the cross — a time that closes the Good Friday liturgy when worshipers are invited to show their respect, to solemnly approach the altar, first just one person, then several, and finally ten or so at a time. Many simply laid at the cross the purple tulips they received for this purpose, others touched it lovingly or kissed it, and some even unselfconsciously bowed on the ground in prayer, pulled down into the dirt like only the devastated can do. 
Then we drove to the junkyard-dog-menaced site of a double murder/suicide, and for the second time that evening our crucifix was placed into the center of those gathered, because Good Friday is not just a single event in history that we choose to remember a couple of days before Easter. On some level, although we can't handle the pain of acknowledging it, Good Friday happens every day. 
So after singing in church, with heart and tears and shaking voices, "Were you there when they crucified my Lord?" we stood at this horrible site and asked our crucified Lord, "Were you there when Mayra Perez took three lives?" 
As people who believe in a God who suffered violence and affliction and responded in love, we had to believe, yes. God was even there.
Then, with purple tulips in our hands and Alex still holding the cross, we sang the first note of the Trisagion, "Holy God, holy and mighty, holy and immortal, have mercy upon us." Each of us then took an unsure hand of tulips and laid them lovingly on the ground as twice again we sang, "Holy God, holy and mighty, holy and immortal, have mercy upon us." 
And suddenly, as if it were staged, the dogs stopped barking. As if their barks had also been pleadings for God's mercy, and they were grateful for us to take over for a few minutes. Then, the moment we stopped praying, they took up their banner of protest and petition and resumed their cacophony. 
Without speaking, we left the barking dogs, walked away with the cross, and left the tulips there on that cold and holy ground. Then we headed home to await the dawn. That is what we all do for now - we await the dawn.